The bedroom serves as the space of rest morphie, the decoration of this space generally is given priority to with comfortable and quiet atmosphere, generally speaking the bedroom is to won't have a larger area to leave empty metope, what rely on outfit is to install curtain, what rely on the wall is to place a bed or do wardrobe, because this is in the bedroom space, what show most should be wall of bedhead setting.
So what material does bedhead setting wall use to look good?
Recommended — Marble
The unique beauty of marble is the reason that cannot resist, let alone make setting of the head of a bed, the lasting appeal of nature can be appreciated after sleeping before going to sleep, why is not a kind of enjoyment.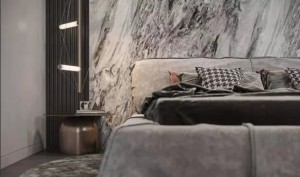 Marble makes the background of a bed is so beautiful and generous, so unique.In domineering do not lose gentle, like being surrounded by nature, in such an environment to sleep is simply too enjoy.
---
Post time: Jul-02-2021